Jag vill delge er min historia om 5:2 men också bevisen och bifogar i de senare delarna även källorna.
Jag har lagt upp alla delarna på sidan under menyn 5:2 Quickstart.
Närmaste tiden kommer ni se mig blogga om vitaminer. Jag är imponerad av ett amerikanskt bolag och dess unika produkter. Så håll gärna utkik på bloggen.
Men nu en sista gång, min historia och forskning kring 5:2:
Upptäck 5:2 Dieten
Jag hamnade i en ond spiral av att må skit – det var inte alls nyttigt! Om du är som jag så kanske du har upplevt hur ett stillasittande jobb och brist på motivation och lust att träna resulterar i viktupgång. Tidigare älskade jag att spela fotboll men jag hade inte spelat på tre år. Jag saknade mitt hälsosamma liv! Så jag bestämde mig för att börja spela fotboll igen. En måndag i mars satt jag på bänken under en match när jag insåg att jag behövde gå ner de cirka 8 kg jag hade lagt på mig under min allra senaste onda spiral. Jag visste inte var jag skulle börja med min viktnedgång; för att gå ned i vikt och känna sig hälsosam så måste man ju fokusera på mat och träning! — eller?
Under min forskning för att hitta de allra bästa metoderna för att bli hälsosam igen såg jag BBC dokumentären av Dr Mosley kallad "Eat, Fast, & Live Longer," där han testar olika metoder för att leva längre, hålla sig yngre och gå ned i vikt med så lite förändringar som möjligt när det gäller livsstil. I denna dokumentär går Mosley i spetsen med sin forskning och blev själv förvånad över resultaten och testvärdena. Så fort han provat en diet, vad han kallar för 5:2, vilket är en modifierad version grundad från hans forskning, blev han chockad över resultaten och konkluderade att 5:2 dieten var mest hållbar i det långa loppet. 5:2 dieten består av 5 dagars normalt ätande följt av 2 dagars fasta — eller lågkalori ätande. (Halvfasta).
Efter att jag sett denna dokumentär visste jag direkt att jag ville testa denna 5:2 metod. Forskningen och resultaten som visades i dokumentären angående denna var mycket övertygande. Jag köpte Dr Mosleys bok "The Fast Diet"  och gav mig helt in i den, körde på och samlade ihop användbara recept. Så tidigt som två veckor in hade jag gått ned 3 kg och var helt häpen! Michael hade rätt! Det här var livsomvälvande!
Jag ville dela med världen, precis som Michael hade gjort, inspirationen och hjälpen som denna metod gett mig. 5:2 dieten är verkligen unik eftersom den inte bara handlar om viktnedgång utan även om en förbättrad hälsa på många, många sätt. Det är inte heller ett nytt sätt att tänka eller en "trenddiet" som många påstår, utan en efterforskad, välbeprövad och uråldrig metod baserad på mänsklig vetenskap. Jag hoppas att denna eBok hjälper och guidar dig till att förstå hur enkel, men ändå effektiv, denna uråldriga och välutvecklade metoden i att föda kroppen verkligen är. Denna eBok kommer att hjälpa dig sätta igång med din egen resa och på så sätt åstadkomma den kropp du förtjänar!
För att verkligen uppleva effekterna 
av 5:2 dieten är du skyldig dig själv 
att testa metoden under
minst 3 veckor.
Dokumentären
Om du har tid så rekommenderar jag starkt att du ser på "Eat, Fast, & Live Longer". Jag tillhandahåller en länk här, men om länkarna inte längre fungerar, var god gör en internetsökning och du kommer troligen att finna Dr Mosleys dokumentär hos DailyMotion, Vimeo, och så vidare. Dr Mosley väntar på dig för att berätta sin livsomvälvande upptäckt! Vänta inte på att se dokumentären — din hälsa borde inte heller få vänta.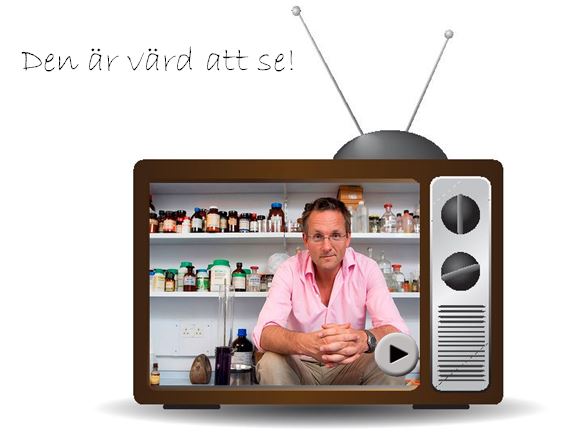 Min verkliga passion är att hjälpa andra att sätta igång med 5:2 dieten. Jag tror både på konceptet och resultaten av den. Efter 7 veckor med 5:2 dieten hade jag gått ned 7 kg. Min ölmage försvann och jag började spela fotboll igen — vid 38 års ålder! Jag kände mig hälsosam och levande. Metoden passar perfekt in med min livsstil. Jag är gift med min underbara fru Sofia. Vi har två pojkar. Numer älskar jag min livsstil och jag vill att du ska känna likadant. Jag vill inte att någon ska gå miste om denna livsstil! Ingen. Det betyder även dig! Föreställ dig vad en förbättrad hälsa kan göra för dig? 5:2 revolutioniserade en familjeman som mig. Jag mår fantastiskt nu.
Jag är väldigt ivrig att hjälpa dig må fantastiskt med hjälp av denna eBok. Jag har även en hemsida, Mr. Yeah.com, som har ett forum, samt en webb-app och appar du kan ladda ned för din mobil (Apple, Android), och en Facebook sida; dessa verktyg kommer att guida dig ända från start och vidare.
Läs nästa del (PART 2) HÄR
Få en av mina e-böcker gratis i PDF-format, se mer på: https://mryeah.com/  (Mina favvorecept är inkluderade i denna eBok)
—————————
I want to share with you my story about the 5:2-dier but also the evidence.
I added up all the parts of the page the menu 5:2 QuickStart.
In near future you will see me blog about vitamins. I am impressed by an American company and its unique products. So please look out on the blog. Specially if you live in the US.
But now, one last time, my history and research of the 5:2 diet:
Discovering The 5:2 Diet
I got into a viscous cycle of feeling crappy—not healthy at all! If you are like me, then you may have learned how a sedentary job and a lack of desire to exercise can cause you to gain weight. I loved to play football (aka; soccer) but hadn't played in three years. I missed my health! So, I decided to play football again. On a Monday in March, I sat benched during a game when I realized that I needed to lose the 8kg (17.6lbs) I had gained during my last viscous cycle. I didn't know where to begin with losing weight; to lose weight and feel healthy, diet and exercise is everything!—or is it?
During my research for finding the best methods to get healthy again, I saw a BBC documentary by Dr. Michael Mosley titled, "Eat, Fast, & Live Longer," in which he tested different methods to live longer, stay younger, and lose weight with as little change as possible in his lifestyle. In the documentary, Mosley spearheaded his research and was surprised over his results and test values. Once he tried a diet, what he calls the 5:2, which is a modified version from his research, he was shocked at his results, so he concluded that the 5:2 diet would be sustainable in the long term. The 5:2 diet consists of 5 days of regular eating with 2 days of fasting—or low calorie eating.
After seeing that documentary, I knew immediately that I had to try this 5:2 approach. The research and evidence was compelling in the documentary. I bought Dr. Michael Mosley's book The Fast Diet (available with U.S. measurements or in metric measurements) and dove in, pulling ahead and gathering useful recipes.As early as two weeks after, I lost 3kg (6.6lbs) and was amazed. Michael was right! This is life changing!
I want to share with the world, as Michael has to inspire and help you as this helped me. The 5:2 diet is really unique because it isn't only about weight loss but improved health in many, many ways. It also isn't a new way of thinking, or a "fad" diet as many proclaim, but a researched and truly ancient method of human science. I hope this eBook helps guide you in understanding how simple, yet how effective, this ancient and evolved way of feeding the body is. This eBook will help you begin your journey and achieve the body you deserve!
To really feel the effects of the 5:2 diet, you owe it to yourself to stick with it for at least 2-3 weeks.
Make that promise to yourself and you
'
ll feel and SEE the difference!
The Documentary
If you have some time, I strongly encourage you to watch "Eat, Fast, & Live Longer". I am providing a link here and below in the picture, but if this link no longer works, please do an internet search and you will most likely find Dr. Mosley's documentary on DailyMotion, Vimeo, etc.  Dr. Mosley is waiting to tell you his life-changing discovery! Don't wait to watch it—your health shouldn't have to wait either.
My passion is to help people get started with the 5:2 diet. I believe in the concept and the results. After 7 weeks of being on 5:2, I lost 7kg (15.4lbs). My beer stomach disappeared and I started playing football again—at 38 years old! I felt healthy and alive. The method fits perfectly into my lifestyle. I am married to my wonderful wife, Sofia. We have two boys. I love my lifestyle now and I want you to feel the same way. I want no one to miss this lifestyle! No one. That means you! Imagine what better health can do for you? 5:2 revolutionized a family man like me. I feel fantastic now.
I am so excited to help you feel fantastic with this eBook. I also have a website, Mr. Yeah.com, with a forum, a web app, apps that you can download for your smartphone (Apple, Android), and a Facebook page; these tools will guide you in the beginning and beyond.
Read Part 2 Here
Get one of my eBooks for free in PDF-format, go to: https://mryeah.com/  (My best recipes is included in that eBook)