Hjälp för att du skall nå dina Mål
RECEPT
För att hjälpa dig nå dina mål tillhandahåller jag dig välbeprövade och riktiga recept från min familj. Jag har själv testat recepten tillsammans med min fru Sofia. Vi testar och testar, så vi vet vad som kommer att få dig att må fantastiskt under dina fastedagar och tillhandahåller dig en meny som har en korrekt balans av näring och proteiner.
Recepten är indelade i menyplaner för att hjälpa dig med vad du kan äta under en fastedag, men för att uppnå fullkomlig framgång så rekommenderar jag att du gör lite egen forskning och hittar ytterligare recept som du kan lägga till i din matlagnings- samling.
Om du är osäker på hur hur många kalorier en vara har så har Livsmedelsverket en bra hemsida. På min sida har jag även en kaloritabell, Ju mer du lär dig själv, desto enklare blir det att genomgå denna livsstilsförändring!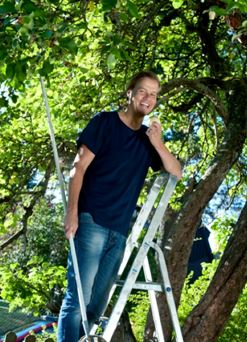 Min Hemsida
Jag har blivit så taggad av 5:2 att jag verkligen vill använda min kunskap och erfarenhet av den för att hjälpa andra i världen. Låter detta extremt? Kanske, men tack vare denna inställning så har jag redan hjälpt många att börja sin resa och jag får email varje dag från folk som berättar hur bra det går för dem.
Innan 5:2 dieten förändrade mitt liv hade jag domännamnet mryeah.com ämnat för Premier League fotboll. Men det projektet realiserades aldrig. Men 5:2 dieten realiserades! Jag bestämde mig för att ladda upp mina 5:2 resultat på mryeah.com. Jag vägde mig själv varje vecka och mätte mitt midjemått. Efter det började jag att skriva kortare inlägg om mina erfarenheter… och fick således fler och fler läsare.
Jag blev även kontaktad av media! Nu har det växt till en sådan stor sak att jag varit med i flertalet tidningar som Expressen och Aftonbladet, och tidningar såsom Land och Borås Kuriren. Jag bestämde mig för att jag ville göra mitt intresse för detta ännu mer offentligt eftersom det är en otrolig, förvandlande, men ändå enkel livsstil. Jag är skyldig Dr Mosley och 5:2 dieten mycket!
Jag har redan nämnt att jag har skapat ett forum för dig på min hemsida, Mr.Yeah.com. Du kan dessutom maila mig på niclas@mryeah.com och snabbt få svar på eventuella frågor, du kan även ställa frågor på Facebook.
Mitt mål var inte främst att gå ned i vikt utan mitt främsta fokus låg på alla de andra hälsoförmåner jag kommer att beskriva. Men om ditt mål är att gå ned i vikt så är chansen stor att råden i denna eBok kommer att hjälpa dig med det.
Introduktion
Vad är 5:2 dieten?
5:2 är en diet där du "fastar" två dagar och äter normalt i fem; detta kallas "periodisk fasta" eller "kaloribegränsning." På en fastedag får du äta men inom ett begränsat antal kalorier. Kvinnor bör äta omkring 500 kalorier och män cirka 600. Oroa dig inte! Det låter som ett väldigt litet antal kalorier men jag har en fantastisk meny som du kan följa och denna kommer att hjälpa dig att må bra även under dessa fastedagar. Du behöver inte fasta mer än 2 dagar. 2 dagar är tillräckligt. De följande 5 dagarna är dina!
Det bästa med 5:2 dieten är att de flesta antar att under dessa 5 dagar proppar man sig full med mat, men faktum är att så inte är fallet– på så sätt hjälper du det slutgiltiga resultatet! Men att gå ned i vikt är bara en av förmånerna med 5:2; det finns många fler som kommer att förvandla din hälsa generellt! Fortsätt att läsa för att lära dig hur 5:2 kan öka din livstid, fördröja cancer och Alzheimers, sänka blodsocker, insulin, blodtryck och kolesterol! Verkar det otroligt? Det är sant. Folk har levt med detta sätt att äta under tusentals år, till och med innan människans skrivna historia påbörjades. Centarians lever på jordens alla breddgrader där dieten är begränsad[i] — det kanske är dags att vi börjar fundera på varför.
Jag tror på konceptet att göra 5:2 under 5 månader för att sedan byta till att endast fasta 1 dag per vecka, Om du följer 5:2 metoden så kommer du att gå ned i vikt, få bättre hälsovärden, bli piggare och mer alert, och eventuellt även bli smartare.
[i] Mosley, Michael Dr. "Eat, Fast, and Live Longer." BBC. Horizon Films. 2012. https://vimeo.com/54089463 https://www.bbc.co.uk/programmes/p00wzndg
Vad behöver jag för att sätta igång?
En köksvåg
Ordentlig mat
2 dagar per vecka
Det är allt! Sedan köper du dina matvaror och väger dem enligt mina recept. Efter ett tag kommer du att kunna skapa dina egna recept som är bättre anpassade efter just dig. Använd 5:2-appen som du kan ladda ner för din smartphone (Apple, Android för att sätta igång). Det kunde inte vara enklare!
Vill du ersätta något i recepten eller skapa din egen meny? Jag har en kcal tabell HÄR.
Förmånen med min 5:2-app är att vi har testat recepten under en lång period så att DU verkligen skall må bra under din fastedag. Du kommer även att få i dig näringsrik mat med den rätta fördelningen av proteiner.
Läs nästa del (PART 3) HÄR
————–
Helping You Reach Your Goals
RECIPES
To help you reach your goals, I am providing tried-and-true recipes from my family. I have self-tested recipes together with my wife, Sofia. We test and test, so we know what will make you feel great during the fasting day and provide you a menu that is correctly balanced regarding nutrition and proteins.
The recipes are categorized into menu plans to help you know what to eat throughout a fasting day, but for ultimate success, I recommended that you do a bit of research and find additional recipes that you prefer to add to your cooking collection. The recipes included here are relevant to my culture and country, Sweden, so please, use these recipes as guidelines and feel free to substitute within your own culture's variances—the only thing I ask of you is to watch the nutrition information of your substitutions.
Most foods have nutrition labels, if you are unsure of how these work for you the FDA (Food & Drug Administration) has a great interactive website and quick tutorial called, Make Your Calories Count, that will explain it all for you!The more you teach yourself, the easier the lifestyle change will occur!
EXERCISES
My Website
I have become so charged by 5:2 that I really want to use my knowledge and experience with it to help people in the world. Sounds extreme? Perhaps, but thanks to this attitude, I have already helped many to start and I get emails every day about how well things are going.
Before 5:2 changed my life, I had the domain mryeah.com for my Premier League football. But, it had never happened. Then 5:2 happened! I decided to post my 5:2 results on the site. I weighed myself every week and measured the waist circumference. Then, I started to write little posts about my experience…I got more and more readers. The media even got in touch! Now, it has become a big thing and I have been in several magazines such as Expressen and Aftonbladet , and newspapers such as, Country and Boras Courier. I decided that I wanted to be even more public with this because it's an incredible, transforming, yet simple lifestyle.  To Dr. Michael Mosley and 5:2 diet, I owe so very much!
I've mentioned already that I've created a forum for you on my website, Mr.Yeah.com. My site is in Swedish but you can use the droplist to have it translated. If you have difficulties with the droplist, Google has a translation page that will translate any website for you by simply adding text or the webpage address. The forum might be in Swedish but it doesn´t matter; you can still ask me in English there. Also, you can email me at niclas@mryeah.com and right quickly get an answer, if you have any questions, or ask me on Facebook.
My goal was not primarily to lose weight, but for all the other health benefits that I will describe. If the goal for you is to lose weight, chances are that you will do so if you follow my advice in this eBook.
Introduction
What is the 5:2 diet?
5:2 is a diet where you "fast" for 2 days and eat normally for 5 days; this is called "intermittent fasting" or sometimes "calorie restriction". On a fasting day, you do get to eat, but within a restricted calorie amount. Women should get about 500 calories and men about 600. Don't worry! This seems like a small amount but I have a great menu for you to follow that will help you feel well during these fasting days. You don't need to fast for more than 2 days. 2 days is plenty. The next 5 days are all yours!
The best thing about 5:2 is that most people might assume that on those 5 days you would gorge yourself on food, but actually you find yourself eating smaller portions- thus helping in the total outcome! But, losing weight is just one benefit; there are many more benefits that will transform your overall health! Continue reading to learn how 5:2 can increase live span, delay cancer and Alzheimer's, decrease blood sugars, insulin, pressure, and cholesterol! Don't believe it? It's true. People have lived in this mode of eating for thousands of years before the recording of time. Centarians live in all places in the world where diet are restricted[i]—maybe it is time we consider why.
I believe in the concept of doing 5:2 for 5 months and then changing it to only fasting for 1 day a week, called 6:1. If you follow the 5:2 method, you will lose weight, gain better health values, reduce the risk of cancer, become more alert, sharper, and perhaps even smarter.
What do I need to get started?
A kitchen scale
Proper Food
2 days a week
That's it! Then you will buy your foods and weigh them following my recipes. After a while, you will be able to create your own recipes that work best for you. Use my 5:2-app that you can download for your smartphone (Apple, Android to get started). It couldn't be easier!
Do you want to replace something or compose your own menu? I have a kcal table (calorie counter) HERE, but you may have to translate my page by using the droplist at https://mryeah.com/ or by using Google Translate.
The strength of this 5:2-app is that we have been testing recipes for a long time so that YOU will really feel good during your fasting day. You will also get nutritious food and proper distribution of proteins.
[i] Mosley, Michael Dr. "Eat, Fast, and Live Longer." BBC. Horizon Films. 2012. https://vimeo.com/54089463 https://www.bbc.co.uk/programmes/p00wzndg
Read Part 3 Here