Se till att njuta nu av sommaren. Vitt vin med några hemmaplockade hallon i smakar fint i värmen!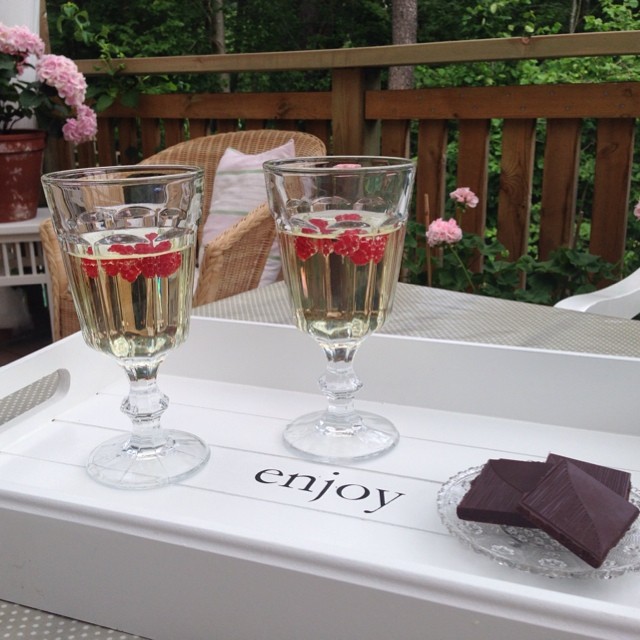 Jag kommer vara med i Aftonbladet igen om nån vecka, då de undrade hur året har gått och om jag lyckas hålla min vikt. Och vad jag kan säga är att jag har hittat min trivselvikt och landar nåt mitt emellan från starten med 5:2 och det lägsta jag hade då jag fastade som mest.
Till hösten blir det nya tag med hälsa och vardagsmotion/träning. Nu ska jag bara njuta!
En sak som jag tittat närmare på sista tiden är vitaminer. Vi i norden behöver speciellt vitamin D på vintern och extra Omega 3 typ hela tiden. Jag har tittat på vitamin K2 där benstommen förstärks och som tar kalciumet ifrån ställen där det inte ska vara till de ställen där det behövs.
Jag har funnit detta ämne riktigt spännande och följer ett företag i USA där en svensk kvinnlig forskare/läkare just har tagit fram en vitamin med dessa egenskaper jag söker. Och där det är kliniskt bevisat på människor att det verkligen fungerar…årerkommer som sagt mer då.
—————————-
Make sure to enjoy your summer. White wine with some home-picked raspberries tastes nice in the heat!
I will be in Aftonbladet(swedish biggest newspaper) again in a few weeks, then they wondered how the year has gone, and if I manage to keep my weight. And what I can say is that I found my desired weight.
One thing that I looked at recently is vitamins. We in the north especially need vitamin D in winter and extra Omega 3 all the time. I have looked at vitamin K2 where the bones are strengthened and that takes calcium from places where it should not be to where it is needed.
I have found this topic really interesting and follows a business in the USA where a Swedish female scientist / doctor has just developed a vitamin with these qualities I look for. And where it is clinically proven to people that it really works …
Have a good week now!