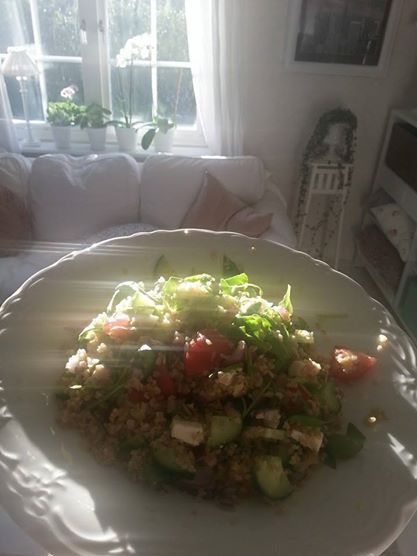 Idag bjuder jag på en riktig god lunch! Jag tror vi kommer stå oss bra på detta. Bulgur är näringsrikt.
Hoppas det smakar, nu kör vi mot en strålande hälsa:)
Glöm inte att hela menyn finns i appen nu!
Frukost totalt 115.5 kcal (138 kcal):
1 ägg på 77 kcal
70 gram frysta blåbär 0.70×55= 38.5 kcal (110 gram, 60.5 kcal)
Te utan mjölk och socker typ 0 kcal
Salta ägget.
Grönt ekologiskt te är kanon. Räknas som 0 kcal.
Eller svart kaffe utan mjölk och socker räknas som 0 kcal.
Lunch:
Koka upp 1 dl vatten med 1/4 grönsaksbuljong.
Häll i 1/2 dl bulgur och lägg på locket och sänk värmen till hälften.
Efter 10 min ställ grytan att svalna.
Under tiden blandar du:
20 gram Rucola
3 cocktailtomater
60 gram gurka
20 gram rödlök
10 gram tärnad salladsost (ica basic 320 kcal/100g)

Häll i bulgurn när den har svalnat tillräckligt.
Salta med flingsalt och örtkrydda.
Klart!
Totalt 240 kcal
Eftermiddag/Kvällsmål
1½ dl mild naturell lättyoghurt ev. låglaktos
1 skiva krossat kanelknäcke
Ett halvt tärnat äpple.(lite lite mindre än ett halvt).
(Män tar ett 1 ägg till så de får ihop sina 600 kcal för dagen)
Gör så här:
Servera 1½ dl mild naturell lättyoghurt ev. låglaktos med 1 skiva krossat kanelknäcke och 1/2 tärnat äpple.


Totalt ca 500 kcal för dagen. (600 Kcal för män)
En stor kopp ekologiskt grönt te på kvällen utan med mjölk eller socker i tar
bort eventuell hunger.
Några koppar svart kaffe under dagen..
Drick rikligt med vatten under dagen ca 3 liter. Inte för mycket nu, ni lär er hur mycket ni behöver.
Kallt vatten med någon limebit i är riktigt gott och hett tips till maten.
Ta gärna lite havsalt i vanligt vatten under dagen.
(Vill bara varna lite, kolsyrad dryck eller vanligt vatten med citron eller lime i är inte så bra för tänderna att dricka, i tid och otid. Eftersom många människor idag har besvär med känsliga tänder och ilningar samt emaljförsvagning. Jag rekommenderar att bara dricka dessa drycker tillsammans med mat och rent vatten emellanåt!)
Lycka till, nu kör vi ;)
——
This lunch I created last summer with Sofia my wife. By far my favorite in the summer!
So stock up on everything below tomorrow so you have everything ready for Monday. We usually do 2 pieces  and put the lunch in separate lunch boxes.
Total 500 kcal, (600 kcal Men).
Breakfast total of 115.5 kcal (138 kcal):
1 egg at 77 kcal
70 ounces frozen blueberries 0.70×55 = 38.5 kcal (110 g, 60.5 kcal)
Tea without milk and sugar type 0 kcal
Salted egg.
Green organic tea is great. Counts as 0 kcal.
Or black coffee without milk and sugar counts as 0 kcal.
Lunch:
Boil 1 cup water with 1/4 vegetable broth.
Pour in 1/2 cup bulgur and put on the lid and lower the heat to half.
After 10 minutes, set the pan to cool.
Meanwhile, mix:
 20 grams Rucola
3 cherry tomatoes
60 grams of cucumber
20 grams red onion
10 grams diced salad cheese (ICA basic 320 kcal / 100 g)
Pour in bulgurn when it has cooled sufficiently.
Salted with sea salt and herbs,.
Done!
Total of 240 kcal
Afternoon / Evening snack
1 ½ cup mild Light yogurt ev. low lactose
1 slice crushed cinnamon crisp
0.5 diced apple.
(All men take also one 1 egg)
To do this:
Serve 1 ½ cup mild Light yogurt possible. low lactose with 1 slice crushed cinnamon crisp and 1 diced apple.
A total of about 500 calories for the day. (600 kcal for men)
A large cup of organic green tea in the evening without milk or sugar in, will take
off any hunger.
A few cups of black coffee during the day.
Drink plenty of water during the day about 3 liters.
Cold water with any limebit in is really good and the hot tip to the food.
Please take a little sea salt in plain water during the day.
(Just want to warn little, fizzy drinks or plain water with lemon or lime in is not so good for your teeth to drink, in season and out. Since many people today have trouble with sensitive teeth and tooth sensitivity and enamel weakening. I recommend just drinking these beverages along with food and clean tap-water!)
Good luck, here we go;)