Lunchen här smakar riktigt gött på sommaren! Häng i nu, visst går det bra? Eller?
Upp med hakan det kan vara tufft den första tiden innan du fått in vanan. Ge inte upp. Tänk vid jul så slanka och vältränade vi alla kommer va! :)
Igår satt jag uppe och jobbade på 5:2-appen och nu är den mycket roligare att se på när man använder Ipad eller surfplatta.
Se längst ner på detta inlägg hur den nu ser ut. I appen kan du följa mig i realtid på facebook utan andra strömmar av info! Och se kommentarer etc.
Recept som funkar bra finns under recept…men om du vill se det senaste och hur jag kör kan du läsa under senaste…då kan du köra precis som jag gör:)
Köp in detta imorgon och laga till torsdagens fasta:
MOZARELLA/ENKEL MENY FÖR KVINNOR 500 KCAL
(MÄN 600 KCAL I PARENTES)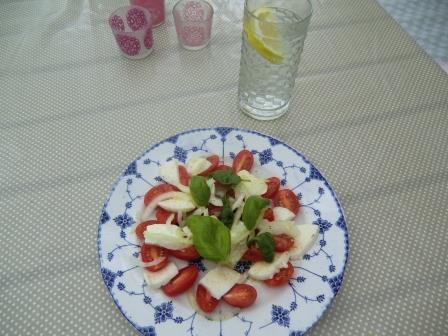 Frukost totalt 97 kcal (125 kcal):
1 normalstort ägg
1 skiva FINN CRISP
Te utan mjölk och socker
Salta ägget.
(Män äter också 25 gram stora blåbär)
Grönt ekologiskt te är kanon.
Eller svart kaffe utan mjölk och socker.
Lunchen totalt ca 254 kcal (327 kcal):
60 gram Mozarella, blir ca 1/2 Bit.
100 gram Körsbärstomater
1 tesked Olivolja
20 gram Lök (går lika bra med rödlök)
7 gram Cashewnötter (Män tar 19 gram)
ca 5 gram Färsk Basilika, tips har du ej Basilika hemma kan du ta lite isbergs sallad istället.
ca 5 gram Äppelcider Vinäger märke DRUVAN
Lägg upp snyggt och krydda med Örtsalt och Havssalt.
Middagen totalt ca 146 kcal :
2 dl Mild lättyoghurt
Äpplebitar så det blir ca 110 gram
Dela äpplet i bitar och krydda med kanel, gott och friskt.
Summa för dagen är ca 497 kcal (598 kcal).
Lycka till!
Niclas
——-
The lunch below tastes really good in the summer! Hang in now, are you ok? Or? Chin up, it can be tough the first times before you got into the habit. Do not give up. Imagine at Christmas so slim and fit we will all be! :)
Mozarella / Easy menu,  for women 500 kcal (Male 600 kcal)
Breakfast in a total of 97 kcal (125 kcal):
1 normal egg
1 slice FINN CRISP
(Men also eat 25 grams of large blueberries)
Tea without milk and sugar
Salt the egg
Green organic tea is great.
Or black coffee without milk and sugar.
Lunch is a total of about 254 kcal (327 kcal):
60 ounces Mozzarella cheese, gets about half Bit.
100g cherry tomatoes
1 teaspoon olive oil
20 grams Onions (goes equally well with red onion)
7 grams Cashews (Men take 19 grams)
About 5 grams of fresh basil
About 5 grams Apple Cider Vinegar
Add up nicely and season with Herbal salt and sea salt.
Evening a total of about 146 calories:
2 cups Mild light yogurt
Apple pieces so it will be about 110 grams
Share apple into pieces and season with cinnamon.
Total for the day is about 497 kcal (598 kcal).
Good luck!
Mr Yeah
Mina favoriter på hela dagsmenyer!

Köp min app på App Store HÄR eller klicka på bilden ovan
Eller på Google play HÄR eller klicka på bilden nedan:
Få min 5:2-startguide + Kaloritabell finns inne i appen:
Senaste! Följ bloggen i appen de recept jag kör för dagen:
If you speak English you have my favorite recipes and can follow me…
…also all my blogpost is in English under "Senaste"= Latest in English.
Funkar i Ipad och surfplatta!

Köp min app på App Store HÄR eller klicka på bilden ovan
Eller på Google play HÄR eller klicka på bilden nedan: